Play Dead by Lee Ann Conlan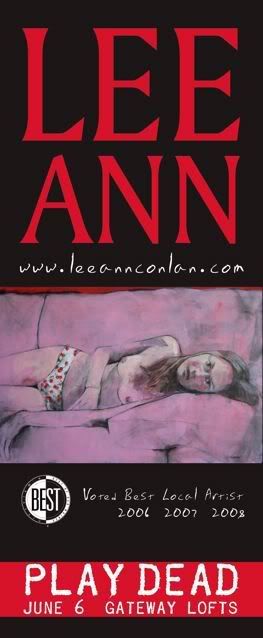 PLAY DEAD by Lee Ann Conlan

Friday June 6th - 6 -9pm.
Gateway Lofts
1719 Grand Ave
Des Moines, IA

The First Friday in June, Cityview's Best Des Moines Artist (2006, 2007, 2008) shows new work at this one night only reception.

On display will be a recent collection of various sketches, paintings, mixed media and video.

Experience live figure drawing by Lee Ann, live music from Oh Possum and DJ Solarz.

Light hors d'oeuvres and wine will be served.
Lee Ann Conlan, a Des Moines native, studied at Rhode Island School of Design and in Florence Italy.

She graduated from Drake University with a BFA in 1997.

Lee Ann taught at the Des Moines Art Center before becoming a full-time self employed artist.
In her most recent work, Lee Ann takes a voyeuristic look into the personal spaces of her surroundings and her life.

She conjures up the quiet moments, blissful emotions and dark secrets of her subjects that would be revealed under the watchful stare of a silent and motionless observer.
Musical performances:
Oh Possum mixes live performance with electronic production, featuring heavy beats, intricate and conceptual guitar work, mood synthesizing and more. DJ Solarz will be spinning avant-garde-environment inspired beats. (Oh Possum set @ 8:30pm)


Friday June 6, 6 -9pm. Gateway Lofts 1719 Grand Ave in Des Moines.
18+/ 21 to drink
Artwork: http://www.leeannconlan.com http://www.myspace.com/leeannconlan
Music: http://www.myspace.com/ohpossum
Play Dead
/plei-ded/:
play possum. to pretend to be sleeping or dead. play the game informal. to behave according to the accepted customs or standards. to cooperate or pretend to cooperate.