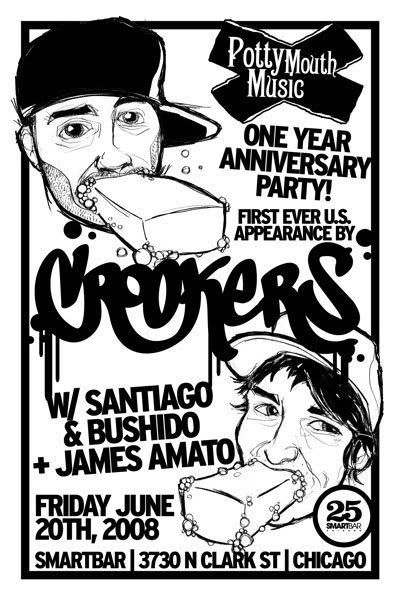 The Crookers are coming! The Crookers are coming! The show of the summer is a week away already, and it'll be the first Chicago appearance by the Italian duo, here to celebrate the one year anniversary party with everybody's favorite fidget label, PottyMouth Records. The show is on June 20th at Smartbar, and along with The Crookers comes Santiago & Bushido, local Chicago legends and fellow PottyMouth label reps, as well as the man behind it all; James Amato. This'll be the first stop on their nationwide tour, so get ahold of the tourdates on their myspace for those of you scattered around.
Also, just for the hell of it, [redthreat] is giving out a pair of tickets to the Chicago show! All you have to do is email us the answer to the following question:
What city are the Crookers based out of?
Here's a hint: it's one of the largest cities in Italy, and it's located on the plains of Lombardy. The winner will be randomly selected, notified via email on June 19th and put on the guest list(+1). Click here to enter the contest!
Busy P - To Protect And Entertain (Feat. Murs) (Crookers Remix)
Secret Handshake - Summer Of 98 (Crookers Remix) (thx fyof)